McLean Youth Orchestra
The McLean Youth Orchestra (MYO) is the premier youth orchestra in Northern Virginia, offering gifted young musicians a challenging repertoire, opportunities to work with skilled and dedicated professional musicians not found with any other youth orchestra.

Founded in 1983, the MYO is a project of the Tysons McLean Orchestra, a professional orchestra serving the Northern Virginia region. MYO was created to provide the finest possible musical education to students who represent the future of classical music in the community. Designed for musically advanced students age, MYO offers the serious music student the opportunity to play in an accomplished orchestra while further developing their musical skills.

Gerald Fowkes serves as the Music Director of the McLean Youth Orchestra (MYO), and Andrew "Drew" Lisowski serves as the Conductor of the Repertory Ensemble (Rep).
FORMS FOR DOWNLOAD
CONCERT SCHEDULE
March 8, 2020 - 4:00 - 6:00pm
May 17, 2020 - 4:00 - 6:00pm
Vincent Hall Community Building Ballroom

Eating Pizza Raises Money for the MYO

This 2019-20 Season the McLean Youth Orchestra (MYO) is pleased to be partners with California Pizza Kitchen (CPK) in Tysons Corner (7939 Tysons Corner Ctr, Ste. L, McLean, VA 22102
) for Pizza with a Purpose. When presenting your Pizza with a Purpose Flyer with the MYO Logo on it, the Tysons Corner CPK will donate 20% of your check back to the McLean Youth Orchestra. (See Flyer for Restrictions)

December 9,2019 -- California Pizza Kitchen FUNdraiser
March 9, 2020 – California Pizza Kitchen FUNdraiser
May 18, 2020 -- California Pizza Kitchen FUNdraiser

Make sure you spread the word to family, friends, and business colleagues so they all dine out at California Pizza Kitchen the Monday after each MYO Concert to help fund music education through the MYO. DON'T FORGET DOWNLOAD THE FORM BELOW.
PROGRAMS
MYO offers several unique opportunities for students to learn, thrive and excel.

This full orchestra is open to advanced student musicians in middle and high school.The MYO plays three to four major concerts per season performing music from challenging orchestra repertoire such as:

• Copland – Lincoln Portrait
• Holst – The Planets
• Mozart – Jupiter Symphony
• Beethoven – 1st, 6th and 7th Symphonies
• Dvorak – 8th Symphony
• Torelli – Trumpet Concerto
• Vivaldi – Four Seasons
• Sibelius – Finlandia

Past venues include playing before the US Congress for the Congressional Awards Services, performing in the Kennedy Center and in Suntory Hall in Tokyo, Japan.

MYO Repertory Ensemble
The MYO Repertory Ensemble (REP) is open to younger players. The REP is conducted by Drew Lisowski. REP performs three times a season, in the same concert as the MYO.

Side-by-Side Concerts
MYO provides multiple opportunities for students to work with and learn from professional musicians. Each season students participate in a Side-by-Side Concert with members of the Tysons McLean Orchestra.

Students may have opportunities to earn community service hours for helping within the organization. Please speak with your director.*
SUPPORT US
The McLean Youth Orchestra (MYO) is one of the premiere orchestral music programs for secondary school students in the Washington, D.C. area. A not-for-profit McLean based orchestral group established by Tysons McLean Orchestra in 1983, the MYO provides the finest musical education to advanced middle and secondary students and an opportunity to experience the joy of performing a professional repertoire with a full orchestra.

Although the MYO charges annual tuition, these fees do not cover all expenses. We rely on the support of our generous patrons, businesses, foundations and government agencies to help fund the performance program.

There are several ways you can support the MYO.

Make a financial contribution
Individual and corporate contributions also may be made to Tysons McLean Orchestra. Tysons McLean Orchestra/McLean Youth Orchestra is incorporated as a not-for-profit corporation and has been granted tax exempt status as a 501(c) 3 organization. Contributions, including gifts of money, bequests, stocks or securities are tax deductible to the extent allowed by law.
ADVERTISING
Under the direction of Gerald Fowkes, MYO performs three performances each year that are free to the public. By advertising in our performance programs, you can demonstrate your interest in supporting the arts that are so essential for child development, and at the same time, reach out to the vast consumer market of Northern Virginia.

PRICING AND INSTRUCTIONS
Download the Advertising Prospectus for pricing and instructions.
CONTACT US
McLean Youth Orchestra
P.O. Box 760
McLean, VA 22101
Phone: (703) 893-8646
ABOUT US
Gerald Fowkes, Music Director and Conductor



Gerald Fowkes is currently Director of Orchestras at Fairfax High School and the newly appointed Music Director and Conductor of the McLean Youth Orchestra. Prior to his tenure at Fairfax he taught in Prince William County Schools where his orchestras consistently received Superior ratings at District Orchestra Assessment and national festivals throughout the Eastern Seaboard. As a former member of the artistic staff of the Youth Orchestras of Prince William, Mr. Fowkes was the conductor of the Concert Orchestra from 2005-2016. In the summer of 2016 he joined the artist faculty as the orchestra director of the Greater Washington Suzuki Institute. He has had the distinct honor of conducting All-County Orchestras in Albemarle, Fauquier, Loudoun, Prince William, Spotsylvania, and Stafford Counties and the 2014 VBODA District X Senior Honor Orchestra and 2016 VBODA South East Regional Chamber Orchestra. In addition, he is a frequent guest conductor at the JMU Spring String Thing and regularly serves as an adjudicator for various VBODA district orchestra assessments throughout the Commonwealth.

Mr. Fowkes is a 2001 graduate of Louisiana State University where he graduated summa cum laude in Cello Performance. His former teachers and mentors include Dennis Parker, Loran Stephenson, Wesley Baldwin and Pamela Frame. In addition, he has studied conducting with Jindong Cai, Michael Butterman and Donald Peterson and participated in master classes with cellists Gary Hoffman, Aldo Parisot, Erling Blöndal Bengtsson, and Paul Katz, amongst others. A product of Prince William County Schools, he is an alumnus of both the Youth Orchestras of Prince William and the American Youth Philharmonic and a past Virginia Governor's Scholar at the National Music Camp at Interlochen, Michigan. A former member of the Baton Rouge Symphony, he performs frequently as a freelance cellist throughout the Baltimore/Washington metro area having performed with the Virginia, Fairfax, and McLean Orchestras amongst others.

A Prince William County resident, Mr. Fowkes was selected as the 2014 Dale City Civic Association Teacher of the Year and a past nominee for the Washington Post's Agnes Meyer Award. He maintains a private cello studio at his home where he resides with his wife, Becky, daughters, Scout, Ellie, and Mason, and son, Isaak.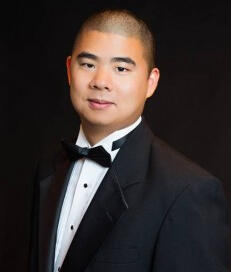 Andrew "Drew" Lisowski, MYO Repertory Ensemble Conductor



Andrew (Drew) Lisowski is the orchestra director at Falls Church High School. He also teaches the Music Sampler class and is a Tri-M Music Honor Society advisor at FCHS. During his time at Falls Church HS the program has over doubled in student enrollment and two additional orchestra classes were added to the program. His ensembles have been consistently rated superior at state orchestra assessments and national competitions.

Mr. Lisowski graduated Magna Cum Laude with a Bachelor of Music Education from Shenandoah Conservatory in Winchester, VA. He studied with Akemi Takayama and Doris Lederer. Mr. Lisowski was named the Presser Scholar for the 2010 academic school year, an award given to an outstanding junior at the conservatory. In 2008, he attended the International Carl Nielsen Masterclass in Assens, Denmark where he sat principal 2nd violin.

In 2012, Mr. Lisowski was nominated for the FCPS Outstanding First Year Teacher of the Year Award. He was also featured on Apple 21's Insight program for his work at Falls Church High School. Mr. Lisowski has presented at the Virginia Music Educator's Association In-Service Conference and at the Symposium on Music Teacher Education. In 2016, he was invited to guest conduct the Alexandria City Public School's 7th Grade Honor Orchestra.

In addition to his teaching duties at Falls Church HS, Mr. Lisowski joined the artistic staff of the Youth Orchestras of Prince William in 2013 as the Primo Conductor. He currently conducts the Repertory Orchestra. Mr. Lisowski also works with the McLean Youth Orchestra serving as sectional coach, rehearsal conductor and conductor. He is currently conductor of the Repertory Ensemble Orchestra.

In his free time he enjoys spending time with his wife, Aubrey, and their two dogs, Bones and Peanut.